"How am I going to pay for care? If we run out of assets, can they kick mom out? I don't know how much money or debt my parents have - or even where they bank!"
Did you know...a minimum of 3 years private pay is required in most assisted living facilities and if the bills aren't paid, they will expel your loved one from the facility? If that wasn't bad enough, new living arrangements will need to be made quicker than you might expect.
The cost of most high quality assisted living facilities ranges between $48,000 – $84,000/year while skilled nursing homes range from $85,000- $131,000 annually.
For many families, these costs quickly reduce a family's hard-earned assets down to nothing – especially when you factor in medication, health insurance premiums and other needs that might come up.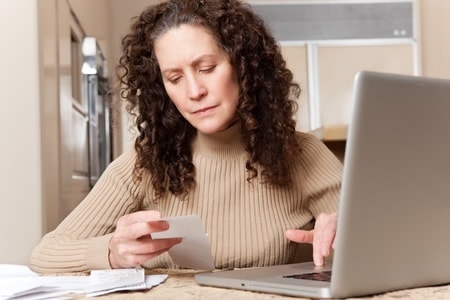 Don't lose hope, there is another way…
At Senior Planning Group, we will help you overcome the seemingly impossible obstacle of how to pay for care, without sacrificing quality.
Helping families navigate the maze of insurance, care, legal and financial matters is all we do.
What sets us apart from other resources?
Insurance Industry Expertise

Our team at Senior Planning Group are experts when it comes to the confusing realm of Medicare, Medicaid and insurance forms.  Our experts can file your long-term care insurance claim paperwork and assist in negotiating with your insurance providers. Having a background in the insurance industry has given our team the knowledge we need to assist you
Well-Connected within the Healthcare Network

Senior Planning Group is a well respected leader in the local long-term care community. Our professional and personal experiences over the years has given us unique insight into the local industry.  Our close work with local providers has given us the unique ability to find solutions that may otherwise be out of reach.
Recommendations Based on Research (and Continual Monitoring)

Our referrals and recommendations come straight from over 16 years of expertise and experience – not from a list of commission fee based incentives. We have pre-screened all assisted living facilities and nursing homes in the area (including those in the Senior Resource Guide) and only recommend the very best.  Our staff is in regular contact with nursing homes, home care and assisted living owners.  We meet and screen caregivers and only recommend those we would use for our own families.
Extensive Medicaid/State Benefits Experience

Medicaid laws are complex and continuously changing, but one aspect of Medicaid planning is always the same. As with estate planning, the further you plan ahead, the more options you will have.

Our staff has been helping seniors with T-19/Medicaid planning for well over sixteen years. We have a private benefit specialist working with our Elder Law Attorney who are dedicated to provide you with the newest information regarding asset protection planning.

By completing a financial inventory, we are able to look at the situation comprehensively. For seniors who need to explore the Family Care program, we help to coordinate the services to ensure that they are successful.
Preserving Assets & Paying for Care

Asset protection is a major component of any Long Term Care Plan.  In the Greater Milwaukee/Waukesha area, the average annual costs for skilled nursing care often exceeds $96,000 annually. Without proper guidance, most individuals quickly exhaust their assets while being unaware that under federal and state rules assets can be preserved in every single case.

Senior planning Group will help you determine the best and most advantageous way to pay for care. There are three available options to pay for chronic care:

Private Pay
Long-Term Care Insurance
Entitlement Programs— Medicare, Medicaid,  Veterans Benefits and state programs such as Family Care, IRIS.

Many people mistakenly believe that Medicare, the federal insurance program for older Americans, will pay for chronic care. Medicare, however, only provides very limited rehabilitative coverage for chronic care.

Understanding and successfully navigating the confusing maze of choices and programs from application to qualification is beyond the abilities of most individuals, especially those under stress. Attaining entitlement eligibility allows for the preservation of assets for the future care needs of an individual and his or her spouse and family.

We research and educate clients on all available strategies permitted under federal and state law. We take advantage of the variations of rules in Wisconsin to obtain the best outcome for our clients.
"I just wanted to send a brief note to thank you and Elizabeth for all your help and assistance in preparing the paperwork for my mother Anastasia.  I found you and your staff truly professional. Your organization exemplifies all the best characteristics of a specialized practice and display proficient, skilled expertise.  Elizabeth was extremely helpful and very pleasant to work with. Thank you for taking the stress & anxiety out of something very important to me. Your personal touch and going the extra mile in providing answers to all my questions & returning emails after hours was above and beyond the call of duty.  That is what makes your organization very special, unique & extraordinary."
-Nick K., client
In the Healthcare Industry, You Are Responsible for Knowing What You Don't Know
There are different strategies and tools you can use to protect your assets, but we need to understand your current situation to protect your assets. We begin by working with you to find out what your loved one's assets are and what their estate plan is.
During our 2-part initial consultation, we work with you to find out what you don't know.
This first step is critical to making the best long-term decisions, securing your assets and ensuring your loved one receives the best care, in the environment that meets their needs now and long into the future.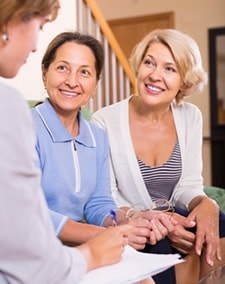 Senior Planning Group, Inc. provides legal information, not legal advice. Our information explains general legal concepts and principles which may or may not be applicable to a particular person's situation. Senior Planning Group, Inc. is not a law firm, does not give legal advice and no attorney-client relationship exists between the site and any user.
Because legal advice must be tailored to the specific circumstances of each client case, and laws are constantly changing, nothing on this site should be used as a substitute for the advice of competent counsel. If you require legal advice, we encourage you to call and request a free consult with our affiliated Elder Law Attorney, Ryan Zenk.