Barbara Horstmeyer, GCM
Founder & President
After 20 years working in both Acute Care Hospitals and Long Term Care Facilities, Founder and President Barbara Horstmeyer realized that her experience and knowledge was valuable to families attempting to navigate the confusing and often disconnected medical health care system. Adding to the confusion was a lack of understanding of the financial impact on families along with the legal implications.
In 1999, Barbara launched the Senior Planning Group as the first and only Life-care Planning Firm in Wisconsin. For 16 years she has assisted families whose loved ones either have had an acute health care change or have a chronic health care need. She understand first hand the stress caregivers face when caring for an elderly parent or loved one. She takes this role seriously because there isn't time to waste or mistakes to be made when life, health, finances and legal questions are pressing.
Barbara is a past member of the Board of Directors of the Southeastern Wisconsin End of Life Coalition , Interfaith Caregivers of Washington County and Supportive Community Services, Inc. in Milwaukee. She sits on the Alzheimer's Challenging Behaviors Task Force with the Alzheimer's Association of Southeastern Wisconsin and is an active member of the Milwaukee & Waukesha County Adult Protective Services Interdisciplinary team.
Barbara lives near Holy Hill with her husband, and two dogs. In her free time Barbara enjoys gardening, hiking and spending time with her three children and six grandchildren.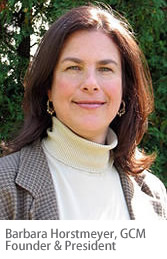 Attorney W. Ryan Zenk, JD, CFP
Elder Law Attorney
Ryan is a strategic partner of the Senior Planning Group. He is able to meet with families to discuss "spousal impoverishment, Medicaid, Asset Protection or any other Estate Planning Issues." There is not a cost for this initial consultation. If legal documents are needed, he will always quote those fees at the time of consultation.
Ryan has practiced law in the area of Estate and Asset Protection Planning, Tax and Elder Law for over 19 years. He received his Bachelor and Juris Doctor degrees from University of Wisconsin-Madison. Ryan is a member of the National Academy of Elder Law Attorneys, Wealth Counsel, the Illinois/Wisconsin Forum of Estate Planning Attorneys, the AARP Legal Service Network and the Real Property, Trust and Probate and the Elder Law Committees of the Wisconsin Bar. His law office is located in Wisconsin, with an affiliated office in Arizona.
In his free time, Ryan enjoys traveling, hiking, scuba diving, running and trout fishing. He also has two daughters.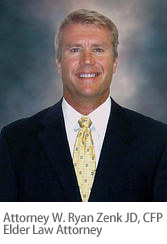 Elyse Shaw, MSW, CAPSW Director of Social Services/Aging Life Care Manager
Geriatric Care Manager, Director of Social Services
Elyse is a Certified Advance Practice Social Worker and is a Professional  level Member of the Aging Life Care Association™ (ALCA).  Elyse received her Master's Degree in Clinical Social Work with an emphasis in Geriatrics from the University of Wisconsin-Madison.
Along with her education, Elyse brings considerable experience in working with older adults throughout the continuum of care – from inpatient psychiatric hospitals to adult day centers, nursing homes, and sub-acute rehab facilities. In addition, Elyse has personal and professional experience in working with patients who are diagnosed with advanced dementia while providing comprehensive advocacy and education to their care givers.  During her undergraduate degree, Elyse  completed various research projects that focused on dementia informed care, early memory loss, and dementia care giver support.
Her medical, psychiatric, and long term care experience allows for Elyse's clients to receive a full range approach that can support one's  varied and individual needs.  Elyse's goal is to help her clients increase their quality of life, to assist with navigating all of their care options and to work with them to determine what scenarios work best with each client's unique situation and life experience.
Elyse lives in Sussex with her husband and her dog, Zelda. In her spare time she enjoys cooking or baking for family and friends and exploring the outdoors with her camera.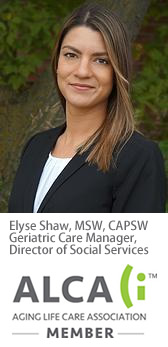 Elizabeth Ryskoski
Benefit Specialist
Elizabeth has been working with the Senior Planning Group since 2006. She serves as a Private Benefits Specialist. In this capacity, Elizabeth handles all Medicaid/T-19 applications from beginning to end. She assists our clients and families with compilation and organization of necessary documentation, and coordinates and accompanies clients and families with appointments at the Wisconsin Department of Human Services.
Elizabeth works closely with our families as they gather an inventory of their assets, bank accounts, brokerage accounts, insurance policies, income sources and health insurance benefits. This "inventory" allows our Geriatric Care Managers to provide appropriate placement options, costs of in home care, and helps us to provide a long range financial plan that covers all levels of care.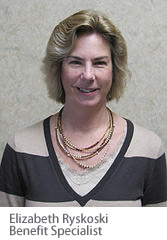 Bill Horstmeyer
Owner, Secure At Home
Bill started working with Senior Planning Group in the Summer of 2008 as the Sales Director for Secure At Home. He is now the sole owner of Secure At Home which is affiliated with Critical Signal Technologies. Bill connects the community with information on our PERS Unit (Personal Emergency Response) in partnership with CST Technologies. Secure At Home helps seniors and those rehabilitating at home, get the security of constant help at their fingertips, without the intrusion of home care aides or video monitoring. He also installs the units into client's homes. Please visit the Secure At Home website.
In his free time, Bill enjoys fishing and spending time outside hunting. He currently lives in Waukesha with his wife and two children.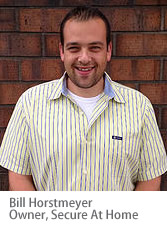 Erika LaPean, MBA
Office Adminstrator / Veterans Specialist
Since 2002, Erika has been working with the Senior Planning Group to develop communication pieces and develop the Senior Planning Group website. For more information on various veterans benefits, please call the office.
Erika received her Masters in Business Administration with an emphasis in Non-Profit Management from UW-Milwaukee and her bachelors degree in business marketing and journalism from UW-Oshkosh.
Erika spends her weekends outside with her husband, three daughters, and their two golden retrievers.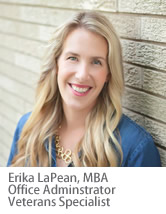 "Thank you Barbara and Christine for your guidance through the process of determining all the needed paperwork form my mother and father. We can proceed with the assurance in helping them with their health issues in order that they may be more confident and comfortable with their lives. The side benefit to all this is that it has brought us kids closer together and more in tune with Mom and Dad and their needs. Your compassion, understanding and knowledge made the process easier for the entire family. For all this we can't thank you enough."
– P. Mullins, client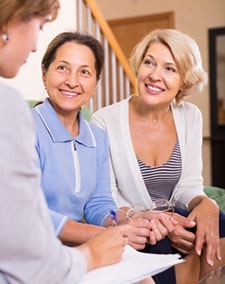 START HERE: Your Path to Peace of Mind
As a first step, we invite you to schedule a free consultation to get answers and alleviate the burdens of difficult decision-making and caregiving. Our highly skilled team of care management professionals will provide your family with all the direction needed so you can fully understand your choices.
With a 16 year track record behind us, we are not afraid to face the tough issues so you can focus on what matters most, FAMILY!